What better way to spend the summer than a film marathon? One of the best things about summer is having time for binge watching. Summer is the season for good vibes and fun, I can guarantee you the best of times if you decide to do a summer Mar(x)athon.
Meaning a marathon of all the Marx Brothers films. Are you up for it? Go get pen and paper because 13 films are awaiting you. Let's get into it, the sooner, the better.
The Marx Brothers are, without a doubt, the most witty and funny family that has ever graced Hollywood, Broadway and the vaudeville theatres. They were, in fact, five brothers (from the eldest to the youngest): Leonard, Arthur, Julius, Milton and Herbert; universally known by their stage names: Chico, Harpo, Groucho, Gummo and Zeppo.
Chico, Harpo and Groucho starred in all the Marx Brothers films and developped their stage persona to transform themselves into icons. Zeppo appeared in the first five films, his roles were not as comedic as those of his brothers…. He gave up acting to pursue his manager career with Gummo.
Groucho took advantage of his distinctive appearance: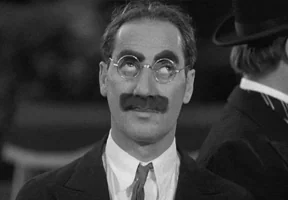 horn-rimmed glasses that combined perfectly with his nose, thick brushy eyebrows and a mustache. These exaggerated features were linked to an exaggerated posture and even more extravagant gestures.
Chico based his character in a strong italian accent and  usually tried to outwit Groucho while partnering with Harpo. The latter's style was visual, basing his comic acts in clown and mimic performances.
They both were talented musicians: Chico played the piano and Harpo played the harp in most films.
In his film appearances Zeppo was usually a cheesy and romantic character. Fan fact: to the general public he was the least memorable and less funny of the Marx brothers but offstage he was considered the funniest member of the family, as Groucho himself recalled. The manager agency that Zeppo and Gummo started in 1934 became one of the most successful talent recruitment agencies in Hollywood representing stars like Clark Gable and Lucie Ball.
You must think, behind this family success… who was the leader? Well, their mother "Minnie" was the one who encouraged them to act and became their first manager. She was the one who put them up on the vaudeville theatres and set them up as a group of musicians. How did they end up on the big screen? Apparently, during one of their performances there was a shooting on the streets, the audience exited the theatre and then re-entered. When they were all back in their seats Groucho went into an angry rant about the interruption and the audience found him hilarious. They switched from stage musicians to stage comedians and then jumped into Hollywood.
The working mechanisms of the Marx Brothers makes it impossible to point one of them as the mastermind or leader.
They each developped their own stage persona. The films they starred-in were based on a script that had usually been written with them in mind, then they  came up with their own sketches and, for the scenes in which they all appeared in, they put into practice their brainstormed ideas. Maybe this was the secret to their success, they all knew they needed each other and never discredited their work.
A night at the opera (1935)
This is the first film without Zeppo. It is the one of the crowded cabin, the contract scene, and many more! The packed room scene was written primarly by Al Boasberg, who was not convinced about it. Boasberg actually tored it to pieces and the Marx brothers cut and pasted back the scene and reinvented it.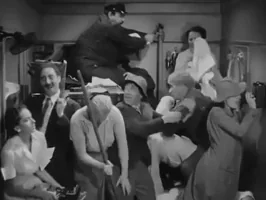 Duck Soup (1933) 
Widely considered a masterpiece of comedy, it is the Marx Brothers finest film. The most famous scene of this film is the mirror sequence in which Chico and Harpo dress up as Groucho and start to mimic his moves to make Groucho think he is standing in front of a mirror.
When it was first released, Duck Soup performed poorly and wasn't really appreciated, but it has certainly aged like fine wine, and it has infinite rewatch value.
Below you will find the complete list of the Marx Brothers films. With Animal Crackers (1930) you'll decode their essence, as it's based on one of their first stage numbers.  Monkey Businness is the epitome of absurdity, there are no actual names in the script. A Day at the Races (1937) will show you that not even the weakest of the Marx Brothers films is boring. At The Circus (1939) incorporates Groucho's rendition of "Lydia the Tattoed Lady", one of his best musical performances. Room Service (1938) is the only script of a Marx Brothers' film that wasn't specifically created with them in mind. And don't blink while watching Love Happy (1949) because the last of the Marx Brothers films marks the Hollywood debut of one of the greatest and most iconic stars of all time.
Of course, this is just a recommendation although you should watch all of them because living without having seen all of the Marx Brothers films is like living without coffee, like living without sun… Just think about it, what is life without fun?
Complete List of The Marx Brothers Films
| | |
| --- | --- |
| With the four Marx Brothers  | Without Zeppo |
| 1. The Cocoanuts (1929) | 6. A Night at the Opera (1935) |
| 2. Animal Crackers (1930) | 7. A Day at the Races (1937) |
| 3. Monkey Business (1931) | 8. Room Service (1938) |
| 4. Horse Feathers (1932) | 9. At the Circus (1939) |
| 5. Duck Soup (1933) | 10. Go West (1940) |
| | 11. The Big Store (1941) |
| | 12. A Night in Casablanca (1946) |
| | 13. Love Happy (1949) |
REFERENCES:
Duck Soup (1933)
A Night at the Opera (1935)
https://www.cinemablend.com/news/2460793/every-marx-brothers-movie-ranked
http://mentalfloss.com/article/73584/10-witty-facts-about-marx-brothers
https://en.wikipedia.org/wiki/Marx_Brothers#Motion_pictures